Why it is better to use Rail Logistics Service for our bulk cargo? We will cover all Rail Logistics Advantageous in this article. Railway transportation is not only environmentally friendly, but it is also faster than shipping and less expensive than flying. However, taking the train for the entire route is not always practicable. As a result, we handle the pick-up and delivery runs for you, combining many modes of transportation with building multimodal transportation chains.
Read more: How to pike the best Shipping Company for Your E-commerce Store
Rail Logistics Services: An Underappreciated Alternative
Essentially, any firm that has to carry large, bulk stuff on a regular basis is a good candidate for railroad logistics, while one frequently ignored option for organizations is to employ rail logistics for bulk special project needs.
These unique initiatives may save businesses tens of thousands of dollars, but because they aren't involved in the train service industry, they aren't aware of the potential or where to seek assistance.
Many businesses have been so focused on their core competencies that they have overlooked the opportunity to outsource rail transportation to a logistics service provider, as they have done with truckload, intermodal, LTL, and other types of freight to optimize and reduce costs.
DelGate provides rail logistics service solutions to assist firms to get the efficiencies they knew existed but couldn't access because of resources or priorities.
These services provide shippers with access to technology, industry expertise, and processes that enable them to begin using rail for their operations, while current rail users manage the process to prevent delays and accessory costs that they have come to expect as part of moving over the rails.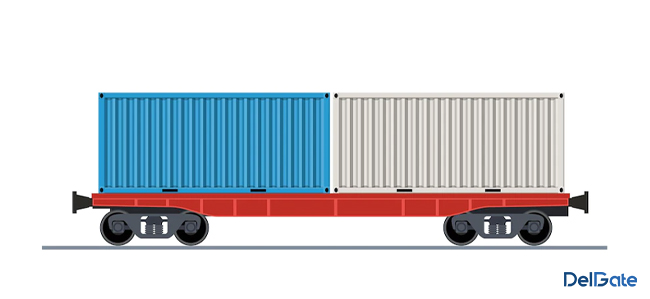 Related article: What Is Expedited Shipping & Why Would I Need It
About Rail Logistics Advantageous
Rail transportation focuses on effectively transporting bulk materials over long distances via the railways' massive network of rails that span North America. Because rail service must stay on the rails, it can only go between rail-served buildings or yards that are specifically designed to handle the big freight.
Rail logistics service, unlike intermodal, is not a direct rival to truckload in terms of pricing or travel. The service is unique and hence not for everyone, but when it is a good fit for bulk materials, it may save you a lot of money.
The problem for most businesses that may benefit from the service is that freight must be moved from one rail-sided building to another, which are few and few between due to the cost and complexity of running tracks off the mainline to a rail-sided structure. This problem may be solved by partnering with one of a variety of logistics businesses that can provide cross-docking services to transport freight from trucks to rail cars.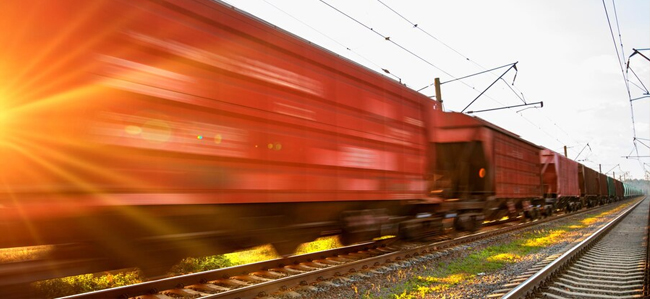 Related article: Make The Best Decisions For Your Shipments By Understanding Transport Options in Logistics
Rail Transportation's Advantages Over Road Transportation
Although road transport is immensely popular for freight, the benefits of trains for particular loads are too significant to ignore. Rail shipping may be a very effective alternative for your supply chain if your item is traveling over 1,000 miles and isn't time urgent.
Consider the following which is about rail logistics advantageous over vehicle transportation:
1. Rail Transportation Has the Ability to Save Money
Switching long-haul freight from road to rail may save shippers 10-40%. Rail has lowered fuel costs when compared to vehicle transport, particularly when transporting a big volume of freight. Rail also saves money on driver salaries and, in most instances, drop trailer programs.
2. Rail Transportation Is More Environmentally Friendly
Trains utilize less fuel per ton-mile than vehicles. A ton of freight can travel an average of 479 miles on a single gallon of fuel, according to the Association of American Railroads (AAR). Additionally, using rail transit rather than driving cuts greenhouse gas emissions by 75%.
3. Trains Are Capable of Transporting Massive Weights
Trains have the ability to transfer vast volumes of cargo. A double-stacked train can haul the equivalent of 280 cars in reality. This might be quite handy for shippers with large shipments.
4. The Railway System Is a Reliable Means of Transit
Railways have strict transit schedules and do not share their tracks with the general public as automobiles do. As a consequence, trains are not influenced in the same manner as automobiles are by traffic or weather.
5. Rail Freight Has the Potential to Be a Cost-effective Mode of Transportation
For many kinds of cargo, the usual transit time is similar to that of road freight. While rail should not be used for time-sensitive items, it may provide comparable transit speeds for longer hauls.
6. Rail Choices Provide You Access to More Capacity
Shippers may find it difficult to obtain a truck when they need one without spending an arm and a leg because of driver scarcity, HOS regulations, and current market demand. Rail transport is a wonderful option for shippers to locate capacity since it is more efficient and does not have the same limits as other modes of transportation.
Is Rail Logistics Service the Best Option for Your Freight?
DelGate's staffs are ready to assist you if you believe multimodal transportation is a good fit for your freight. We'll locate the finest solution for your needs so you can transport more efficiently. Contact us today to learn more about your choices and how much money you may save.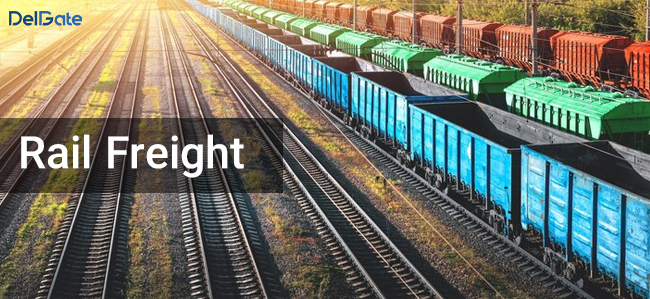 The Future of Rail Logistics
Outside factors are causing technological upheaval in several businesses. Advances in transportation technology may soon put pressure on rail freight, which is no exception.
Some experts anticipate that "super trucks" and electric/autonomous vehicle technologies will significantly reduce the cost of doing business in trucking over the next decade.
Related article: E-Commerce Order Fulfillment: How the Supply Chain Has Evolved
Trucking, when combined with door-to-door service, faster delivery times, and superior on-time performance, has the potential to attack a major portion of the railroad business.
To combat this danger, railways will need to undertake significant technological and operational changes. Simply keeping up with advances in transportation technology will not suffice: railroads must be robust, market-responsive, and future-focused. We at Delgate aim to be perfect in sticking to the best practices, hoping for a brighter tomorrow.