There are different types of trucking services in logistics, in this article we introduce them completely. The "first and final mile" of the supply chain is referred to as trucking. The U.S. trucking sector is primarily concerned with domestic and cross-border trade in the United States. Consumer expenditure and industrial output fuel the need for trucks.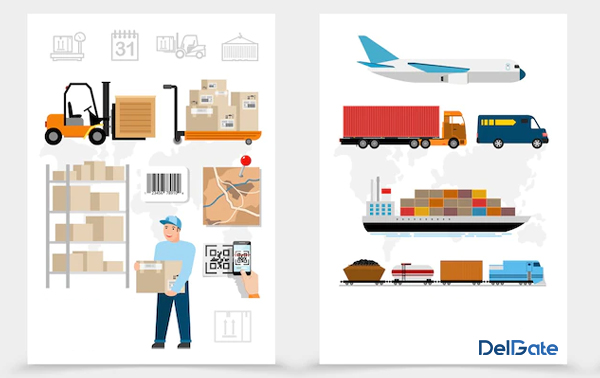 The value of commodities transported by truck between the northern and southern borders of the United States has increased by 172 percent since 1995, reaching $720 billion in 2017. Trucks carried 68% of all surface-transported commerce between the United States and Canada.
A carrier is someone who transports your goods from point A to point B. In the United States, there are over 360,000 trucking businesses. It might be tough and time-consuming to figure out which trucking service is best for you. Matching the greatest transportation service with the best business or residential shippers is our primary purpose. At DelGate we provide the most important types of trucking services for our customers.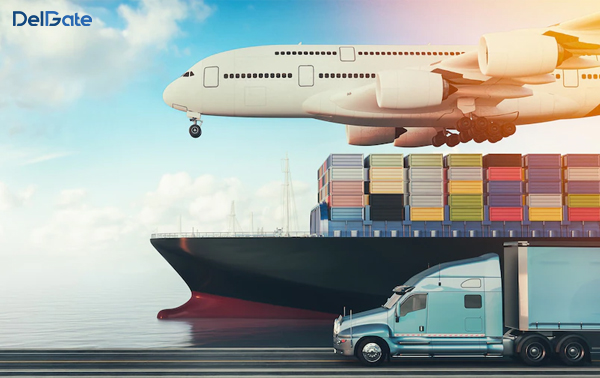 What Types of Trucking Services Do We Provide?
Drayage is a term used to describe the process of transporting goods from one location. Drayage is a logistics word that refers to ground freight transportation of products over a short distance. Up intermodal transportation, drayage may assist fill in the gaps. Drayage is a specialized shipping service that is used to transport huge containers by truck, ship, or rail. Drayage is an important part of the freight transport process in shipping.
The technique of moving items across small distances is known as drayage. It entails transporting containerized goods from one port to another or from a port to a railyard and is an important component of intermodal transportation.
Drayage is a short-haul option that often involves a single driver shift and serves a specific metropolitan region, resulting in speedier and more efficient freight transportation.
The sole freight aboard the trucks and trailers in this form of trucking service will be your stuff. Our trucks will arrive at your destination without stopping at terminals, and you will have complete control over your fleet.
This trucking service is for time-sensitive goods that are in danger of being damaged. To fill our clients' fleets, we use experienced and competent drivers. As a result, the danger of damage to the vehicle and freight during loading will be greatly decreased.
FTL stands for (Full-Vehicle-Load), which is a kind of logistic transportation in which a truck transports just one specific load. One sort of fleet will load the whole vehicle for a single client in this method. FTL logistic services, in other words, are available when you need a complete truck to transport your freight. There will be more than 12 pallets on the truck, with just your merchandise on it. The method of loading the truck is totally suitable for your cargo, ensuring that the whole journey is safe.
Our truckload logistics specialists identify the ideal carrier, lane, and work vehicle combination. Every truckload has a different shipper, payload, and destination.
Motorcycle transport is another type of trucking service which is a specialty of certain trucking companies, whereas furniture transport is a specialty of others. Delegate is here to help you locate the best truckload transportation services without all of the worry and trouble. You don't have to do anything since we've already done everything for you in the different types of trucking services you choose!
Rail transportation is a highly effective option for your supply chain to carry freight that has to go more than 1,000 miles and is not time-sensitive. Rail service has several benefits, but one of the most essential is that it is a very reliable means of transportation since it is not impacted by weather conditions such as rain, fog, or snow.
Rail travel is a viable option. Long-haul freight shippers that switch to rail may save 10-40%. When compared to vehicle transport, rail offers reduced fuel expenses, particularly when transporting large amounts of freight. Rail has fewer expenditures related to drivers, while drop trailer systems often have lower costs.
The ecology is better served by shipping by rail. Trucks use more gasoline per ton-mile than trains do. The Association of American Railroads (AAR) estimates that a single gallon of gasoline may transport one ton of freight 479 miles. Furthermore, using the train instead of driving reduces greenhouse gas emissions by 75%.
5. Flat Beds types of trucking services
Flatbed trucks are a specialty for many of our trucking companies. Flatbed trucks are designed to load and unload freight quickly and efficiently. This sort of truck service is appropriate for transporting bulky freight that is neither fragile nor weather-sensitive.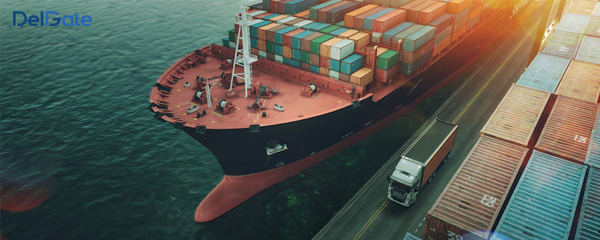 How Do You Select the Right Types of Trucking Services?
There are a number of considerations to consider when selecting the finest trucking service for your next cargo. You'll be able to identify the optimal freight shipping option for you based on your responses to these questions. When you call your cargo shipping company to book your shipment, have these answers ready.
Where will you be picked up and delivered?
How much does it cost you?
How big is the package?
What's your deadline for receiving your items?
Is there anything unique about the cargo?
Do you need or want the assistance of someone to pack and unpack your belongings?
Trucking firms that provide different types of trucking services, are continually transporting materials from suppliers to manufacturers, as well as carrying completed goods from producers to customers. Trucks deliver more than 70% of products in the US.
The economy will actually cease moving if these steady flows do not exist. That's why, although many other companies were forced to shut during the COVID-19 lockdowns, the trucking industry mostly remained open or even grew throughout the epidemic.
A Short Review on Trucking in Logistics
In every country, transport networks and trucking systems are essential for the economy to run. Road networks act as the veins of a body, letting vital things move around to go where they should go.
What else could possibly be a more accurate comparison? If there is anything for which we must express appreciation or praise our forefathers and big players in these developments, it should be the transportation and logistical systems that we have now. 
Almost all industries need trucking services to run; in fact, our lives are just dependent on that.
Trucking and Logistics Impact on Everything
Despite the fact that technologies in the past were far from reliable, much less the safest, their concentrated efforts over the years meant that we now have the knowledge and skills to make the required adjustments.
We have developed more sophisticated transportation networks throughout the globe, following their mission. We're saving billions of potentially wasted money by applying technological solutions to the existing logistical processes.
Because of the importance of trucking in human lifestyles, it's difficult to evaluate the direct influence of trucking on the economy and market.
Still, one point is certain: due to the dominance of road transport in the distribution circle, no other form of transportation seems to be filling this area.
If you are still thinking about how serious trucking is in every field and sector, take a peek around to analyze the market.
Can you mention any company that isn't involved in transportation services, either explicitly or implicitly?
Furniture, chemicals, wheat, grocery items, online purchasing, etc. Everything you can see on your desk has been once in a truck. So, let's say transportation and logistics are certain to be involved in everything.
What Makes Trucking so Attractive?
You're probably wondering what makes trucking and logistics such a profitable industry while we have more affordable alternatives like railroads and faster means such as airlines. The answer is already in the question.
In a complete distribution cycle, we need railroads, and we can't do many things without airlines. In the middle, none of them would work if trucking was not an option. That's how logistics is doing like a rock star better than ever in history. Today, we have all the options.

Types of Trucking Services in Canada
There are a variety of trucking solutions and different types of trucking services to pick from, and each has its own set of advantages and disadvantages. 
You must be aware of your alternatives in order to get your goods transported swiftly, securely, and affordably. Then you can figure out which transportation strategy is best for your company. Let's see some of our options as different kinds of trucking services.
LTL or Less than Truckload Canada
This service is for exporters whose goods weigh more than 100 lbs but still don't occupy a whole truckload. LTL shipping, or less than truckload shipping, enables shippers to place their products into a vehicle alongside others and only pay for the required space.
This is a cost-effective approach to moving products across the country without using a complete vehicle. However, as you will be sharing truck space with different customers, your control over the roadways and schedule is a little bit limited.
FTL or Full Truckload Canada
In case you have a package that occupies a complete cargo truck (usually measuring 8′-8.5' wide, 12.5′-13.5' high, and 40′-53' long) or you require a specialized truck trailer specifically for your items, a full truckload is an excellent shipping choice.
When compared to LTL shipment, FTL shipping gives you greater control over the truck routing and scheduling. Don't forget to ask all the questions from your service provider. You should make sure of the size of their truck.
Flatbed Trucking Service Canada
Using flatbed trucks allows you to load and unload freight quickly and easily. This kind of truck is perfect for delivering items that have previously been bundled into cargo containers, automobiles, or other weather-resistant items.
Flatbed trucking solutions are often used by sectors such as construction and agriculture to transport big equipment and building components.
Trucking Is a Huge Industry
As mentioned above, trucking is a big part of everything, and its story is not finished. These types of trucking services are only a small part of this industry. 
There are many more options and solutions for small and big companies, and every day, it is getting better and better.