When you're an E-commerce business owner, order fulfillment will be an integral part of your operations. While your business develops, you will figure out that fulfilling customer orders in-house is no longer reasonable. In this case, third-party logistics companies are in action.
Third party logistics Companies: What Do They Do?
In general, third party logistics providers typically specialize in integrated warehousing operations and transportation services. What they provide is saleable and customized based on customers' needs, depending on market conditions. In this way, they can meet the demands and delivery service requirements of their customers.
A third-party logistics company is like an eCommerce fulfillment company. They give all of the services you want in order to outsource your logistics operations.
DelGate 3PL warehouses maximize the speed and efficiency of your business. We will handle all your 3pl logistics while you can focus and expand your business without hiring excessive staff. You can work with a 3PL company for your eCommerce fulfillment to reduce your shipping costs and delivery times and increase focus.
Read about whether Is it the right time to change your 3PL provider?
Third party logistics services include:
Picking and packing
Inventory management

FTL and LTL freight shipping

Shipping and Receiving

Reverse logistics (returns)

Kitting and customization
Third-party logistics services extend beyond logistics to include great services for the production or procurement of goods, and services that integrate parts of the supply chain. The provider of such integrated services is a third-party supply chain management provider (3PSCM) or supply chain management service provider (SCMSP). 3PLs focus on particular functions within supply management, like warehousing, transportation, or the supply of raw materials.
The role of a third-party logistics company?
DelGate fulfillment and warehousing are one of the top third party logistics providers in Canada for weighty, massive, and high-esteem items. DelGate specialized in different types of fulfillment and warehousing in North America. Some of its Vancouver warehouses are equipped for cold fulfillment. They can store or ship food products needing to be refrigerated or frozen or are prepared to store and ship hazardous materials.
What is third party logistics?
3PL (or third party logistics) is usually used interchangeably with order fulfillment. Third-Party Warehouse gives complete eCommerce fulfillment services to its customers. Services like:
Warehousing
Order processing
Returns processing
Customization
The 3PL business model is the most widely recognized sort of outsourced logistics company. There are different sorts like 4PL and 5PL, but there are lots of organizations and companies which are keen on 3PL.
DelGate, as a 3Pl company, manages both inbound and outbound transportation for customers, and warehousing. We own our own warehouse space to provide 3pl warehouse for our clients. We have contracts with other carriers for doing customer freight and shipping.
Read about Fulfillment Costs; Know Everything About 3PL Warehousing Costs
Third-party logistics outsourcing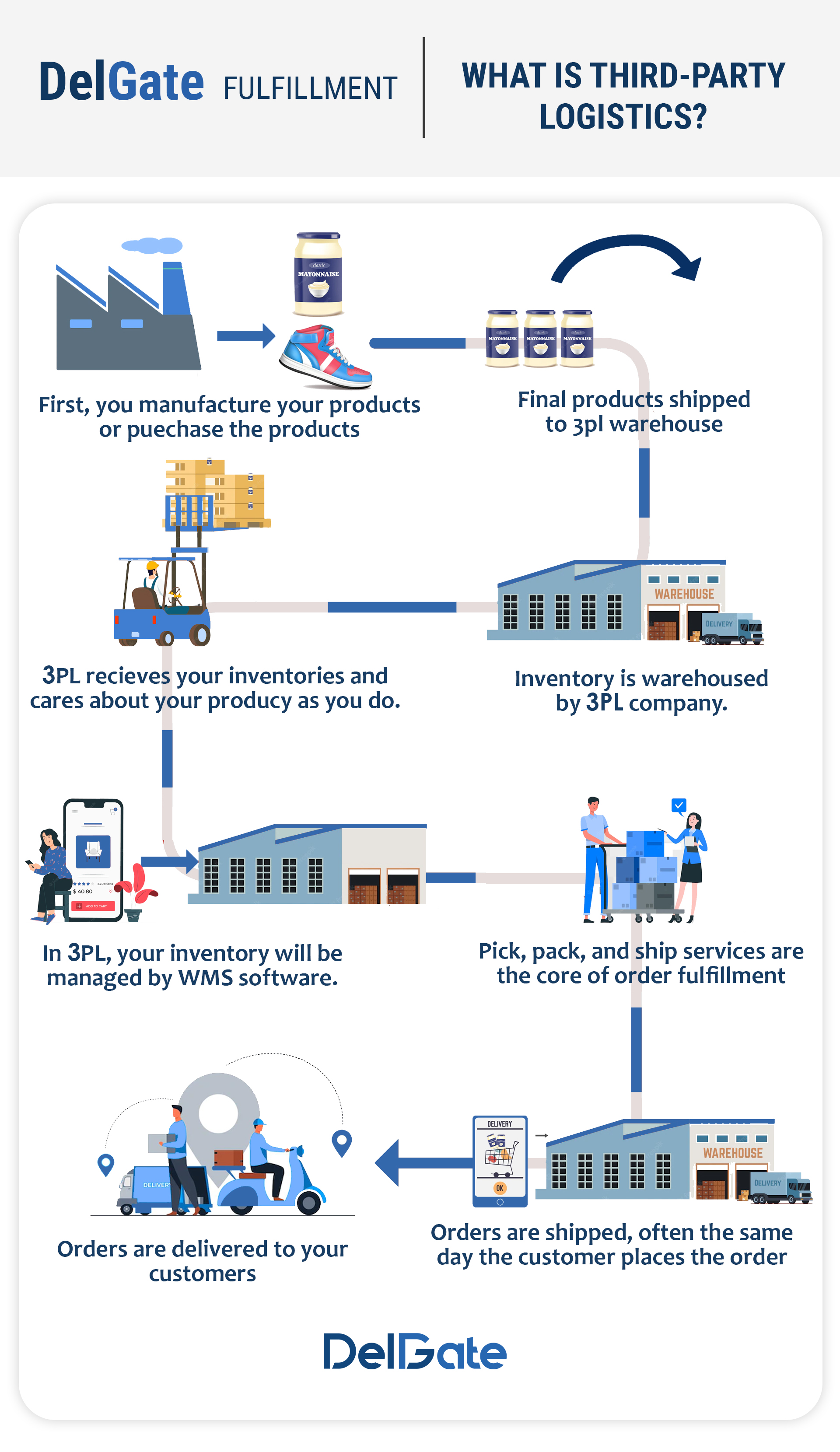 Global 3PL
Companies began to trend toward outsourcing inbound and outbound logistics services to third parties in the 1970s and 1980s.
With the introduction and growth of e-commerce in the 1990s and 2000s, the term 3PL became ubiquitous and 3PLs expanded their services. The supply chain integration of warehousing operations and transportation services has become what we now call third party logistics.
The global third-party logistics (3PL) market was valued at $1,027.71 billion in 2019. It is projected to reach $1,789.94 billion by 2027, registering a CAGR of 7.1% from 2020 to 2027. In 2019, the Asia-Pacific region held the largest share of the global 3PL market.
Read about What is Transloading in 3PL Logistics?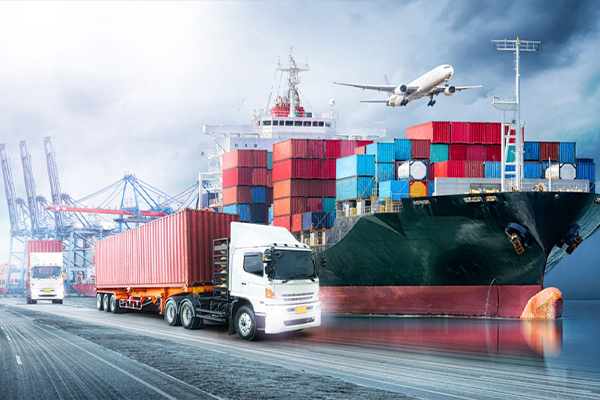 Third party logistics in Canada
Canada has been a long time coming to use the Internet for sales and marketing, but that has changed in recent years. Companies large and small have ventured into the digital world of opportunity. Still, nearly half of small and medium-sized businesses don't have a website.
Only a small portion of those with a website also have an e-commerce functionality. One of the biggest obstacles standing between them and the profits that await them online is order fulfillment.
Many small businesses and independent entrepreneurs are intimidated by logistics and services designed to make order fulfillment easy. It may seem complicated at first glance, but it's actually very simple: you make the sales, and the third party logistics firm fulfills them.
Larger companies are also leveraging third-party logistics to reduce their real estate footprint, simplify order fulfillment, lower shipping costs, reduce staffing requirements, and basically wash their hands of all the manual stuff.
third party distribution
Fulfillment by Amazon (FBA) became available to Canadians selling in the marketplace in 2012. For many, it was their introduction to third-party order fulfillment. Canada's e-commerce platform, Shopify, is opening its fulfillment warehouses to improve the ordering process for small businesses.
They recently introduced the Shopify Fulfillment Network and acquired 6 River Systems to improve warehouse operations. e-Bay will launch its managed delivery fulfillment services here in Canada next year. Sellers will have access to national storage, packing, and shipping services for a smoother experience.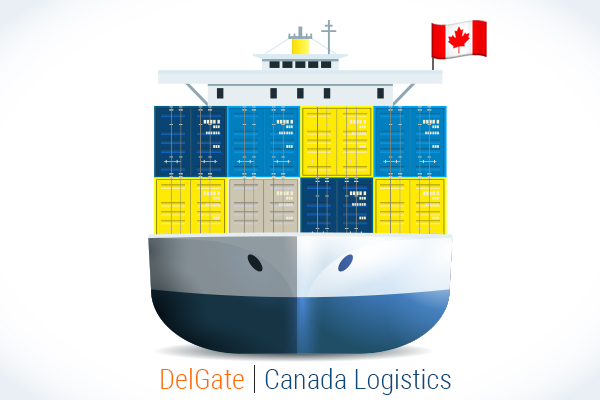 The Economy Of Vancouver
Vancouver's economy is one of Canada's most vibrant. British Columbia city is Canada's official gateway to the Pacific, a major port, and the major western terminus for transcontinental highways and rail lines. Vancouver has successfully transitioned from a predominantly resource-based economy to a diversified knowledge-based economy and has been the fastest-growing economy in Canada in recent years.
Trade and international trade are key sectors of Vancouver's economy. The city has Canada's largest port and is a major North American gateway for pan-Pacific trade. The Port of Vancouver ranks first in North America by total foreign exports and second on the West Coast by total cargo volume. The Port of Vancouver is Canada's largest and most diverse port.

3PL in Vancouver BC
If you are thinking that third party logistics or a prep and shipping business would be a promising investment, you are right. As a startup, Canadian 3PL companies are some of the fastest-growing businesses in Canada. Related products and services are growing with them. For example, the 2019 Report on the Business ranking of Canada's best-growing companies named Fleet Optics the fastest-growing Canadian company.
They deliver last-mile deliveries in Ontario, using their own optimized tracking software. Clearly, the fulfillment options for Canadian companies are growing in both number and diversity. If that's what stopped you from selling online, it's time to take another look.
Read more: Learn How to Ship Freight: Equipment Types, Services, and Sizes
Third-party logistics industry
Vancouver City in British Columbia is the most populated city in the province, making it the eighth-largest municipality in Canada. The city is home to an ethnically diverse population and as a result, is classified as a global Beta city. It is often considered to be one of the best places to live in the world.
The combination of high quality of life, ample amenities, and diversity has contributed to the city's rapid growth in the recent past. Today, the city has a booming economy that shows no signs of slowing down. The excellent travel and communications infrastructure, including world-class ports, harbors, and the highway system, also contribute to this.
Conclusion
Choosing the wrong third-party logistics company can be disastrous. Before you approach 3PL companies, you should identify and outline your requirements. Analyze your current performance, outline your current supply chain costs and examine your existing shipping relationships.
If you are thinking that third party logistics or a prep and shipping business would be a promising investment, you are right. As a startup, Canadian 3PL companies are some of the fastest-growing businesses in Canada.
The excellent travel and communications infrastructure, including world-class ports, harbors, and the highway system, make Vancouver the best place to have a third-party logistics company.